We are committed to the health and safety of our church family. We also believe that as followers of Jesus, we are to respond in the current situation of the COVID-19 virus in a Christ-like way. During this season we invite you to join us for Hope Church Online. Below you will find links to resources for you and your family to stay connected with Jesus and one another.
Head over to our youtube channel or facebook page to find our Livestream beginning at 9:45am!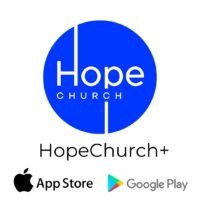 Text "App Hope Church" to 77977, or go to the Apple Store or Google Play to download the free app
Thank you for joining us today! Go text or call a friend and tell them how important they are to you and we cannot wait to see you next week Hope Church!