Welcome Home to Hope Church! We are on a mission to introduce people to Jesus and fuel their love for Him. You will find several links on this page providing a launching point to for you can get and stay connected. Please do not hesitate to let me know if there is anything in particular that I — or anyone on the staff or leadership teams — can do to answer any questions or provide any support. We are thrilled that you are here and eager to share the HeartFuel that comes from the faith, hope, and love of Jesus Christ. - Pastor Mark Jordan
Fill out the Connect Card to stay connected with Hope.
Click the Giving Back to find all the ways you can give to Hope.
Find exciting new content daily on the Hope+ page.
Find all the Hope Happenings on the Events page.
Join our Facebook Group to keep up with all our Happenings.
Send us your Prayer Requests.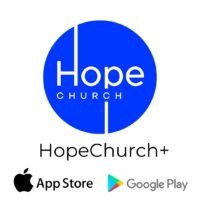 Text "App Hope Church" to 77977, or go to the Apple Store or Google Play to download the free app
Thank you for joining us today! Go text or call a friend and tell them how important they are to you and we cannot wait to see you next week Hope Church!